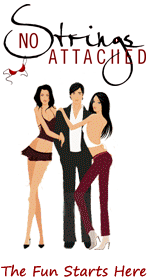 Welcome To
ClubNsa.co.za
Clubnsa came about because in the mid 90's we created an Adult NSA Sex Personals website which only catered for Gauteng, so after 22 years of people e-mailing and enquiring for something similar that caters for their area we decided to make it happen, no strings sex encounters throughout South Africa.
Our Members now reside all over South Africa so if you live in Cape Town, Kwazulu Natal, East London, Port Elizabeth, Gauteng, Bloemfontein, Pretoria, Kimberley, Durban, Mpumalanga, Limpopo, Klersdorp, Rustenburg, Free State, Johannesburg, Nelspruit or Witbank you can browse local No Strings Attached Personal Ads in your area.
You will find there are always active men and women on the website who seek casual NSA day and night sex encounters in your area and all over South Africa.
Once you are a Member you will see more profiles in the Members Area than in the Visitors Area, reason for that is the need for discretion. If you have been searching for NSA hookups, casual sex, FWB or even a sexy once off, you don't need to search anymore, you have found the Website you have been looking for :)
There are websites out there with a bad reputation, don't be prejudiced and throw us into the same category, come and look for yourself, we are quite different. We have almost 30 years hands on experience, we do a lot of advertising so as to ensure new Members join all the time, that way there is no shortage of people for you to meet and hookup with.
We are a sexy and fun community of NSA friends who enjoy the occasional Casual Encounter.
If joining a no strings attached sex dating website is not for you, then just x the page down.
ClubNSA
Testimonials
⭐⭐⭐⭐⭐
Hello club nsa
Cape Town is a beautiful place to live but being single it's not the easiest city to meet people, especailly for some uncomplicated sexy fun.
You made this possible and so easy :) I have met a really great guy and am still having plenty fun chatting to others!
Thanks guys
Nina T - Tokai - Cape Town
Hi Guys
Join this no nonsense dating site if you're looking for genuine hookups! I tried many other sites but besides being hosted in other countries they also have no moderation and allow bad rubbish to be posted all over the pages, so ja your nsa dating site Rosks!
Keep up the good work and hope you go from strength to strength.
Gareth W - Margate - Kwazulu Natal
I was convinced that trying to meet someone during covid was impossible but I was pleasantly surprised to make contact with a charming man and after a few weeks of e-mailing to and fro we finally met and it was amazing!
Thank you for a great dating website and especially keeping it going through a pandemic where everyone feels so alone.
I would definately recommend your site to other women who were in my position looking for casual sex and company every now and then.
Linda B - Potchefstroom - North West Province
Meeting people in Mpumalanga for no strings sex isn't easy and I have been trying on other dating sites for ages now with no luck.
It only took a few weeks and I have met a really lekker guy who I will no doubt see on a reglar basis, so thanks for that!
Your service is amazing and I would recommend your site to anyone :)
Annemarie C - Nelspruit
I have joined so many personals dating sites over the years and have been disappointed every time, but I must say that clubnsa has exceeded my expectations.
Thanks to you I have a wonderful NSA friendship going with a man who lives fairly close by and who also isn't into a complicated thing, just some good old fashiond casual sex.
My 3 / 4 times a month get together with a FWB is great and I am truly appreciative of the site working in my favour.
Saanvi - Durban
Just a heads up, clubnsa rocks !
I have made contact and met with a few women who really like me and I like them as well.
Your way of providing anonimity is so cool, discretion is a biggie for me, so thanks for that.
Michael A - Cape Town
ClubNSA.co.za

is South Africa's Premier Personals Website To Find NSA Sex Partners.
Single & Married Men & Women Looking For Discreet Regular No Strings Sex Hookups In Cape Town, Durban, Gauteng and Throughout South Africa.
Have Fun Looking Through The Visitors Area And We Look Forward To Welcoming You As A New Member !